Earlier this year we invested in a used piano. I knew nothing about buying pianos (I'm not even a piano player) so I had to do some research on how to look for the right piano and ensure I wasn't spending too much and buying a lemon.
What I gathered may be helpful to you, so I am creating this checklist on what to look for when sourcing a used piano:
Soundboard and Ribs
The soundboard is the wood panel on the back of the piano, and the ribs are the other pieces mounted on top of the board. When checking out the piano, move it away from the wall and check these items for cracks, water damage, or any other weird stuff that should not be there.
Bass and Treble Bridges
These are where the strings attach to the bottom of the piano harp. This is the most important thing to check. A cracked bridge is nearly impossible to replace at a reasonable cost, so if you find a piano with a crack on either of the bridges, just walk away.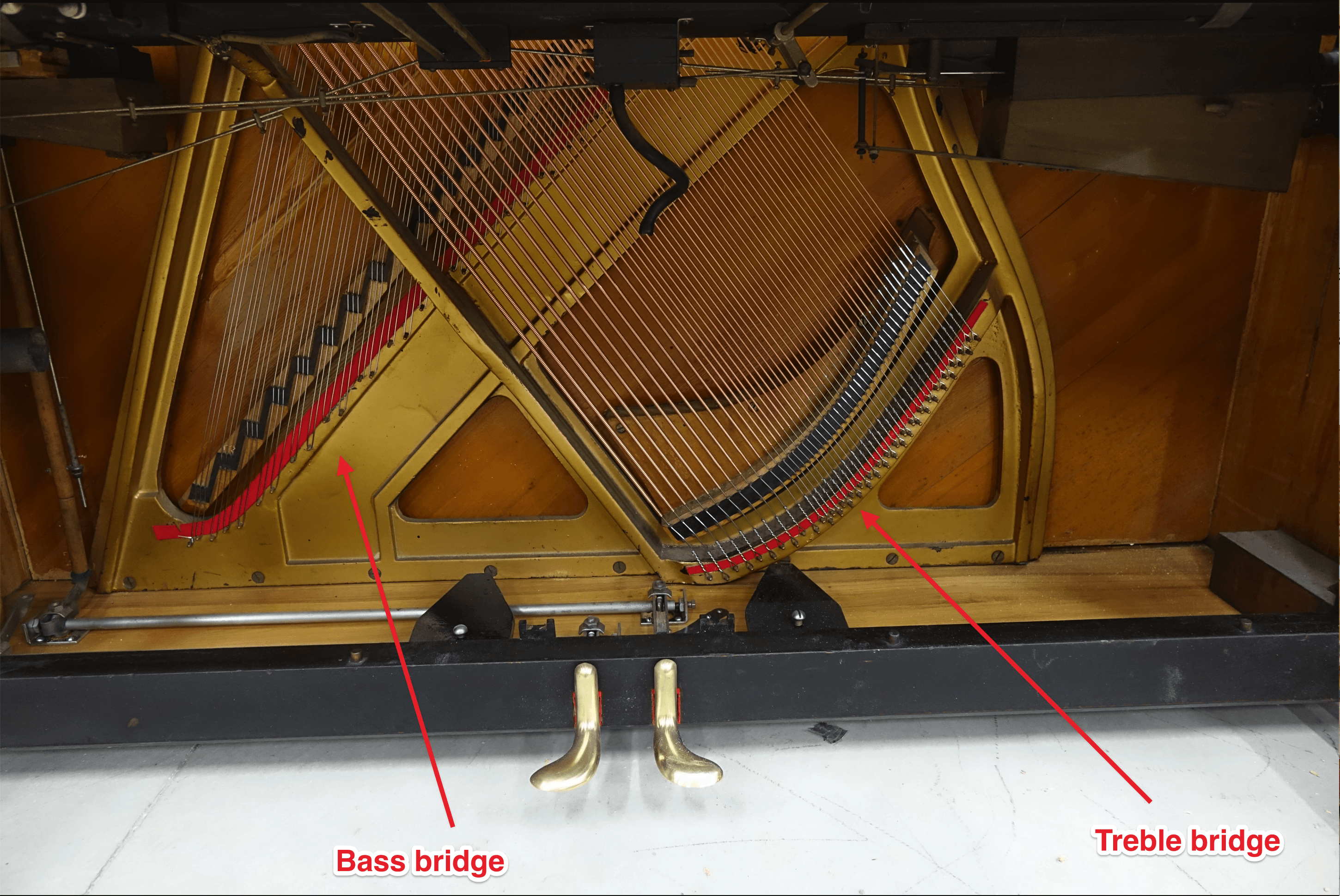 Hammers and Action
Hammers are the felt-y pads that hit the strings. Actions are the mechanisms that activate the hammers when you press a key.
Every time the hammer hits the string, the string indents it a tiny bit. Brand new hammers will have no sign of wear, while heavily used pianos will have hammers that are really worn out by the strings. If you're looking at a used piano, you want hammers that show wear (it means the piano was played!), but not too much.
Hammers ideally are spaced evenly across the piano, meaning that the gaps between them are about the same everywhere.
Keys
Check every single key. Press them and ensure that they come back up quickly. Ensure they're not too loose and wiggle from side to side. See if there are any discoloration and if they stick when you press them.
Tuning and Maintenance Records
Does the current owner have records of the piano being tuned on a regular basis? Are there any records of maintenance that was done to the piano?
Other items to consider
Will the piano fit in your space?
How much will it cost to transport the piano to your place?
Is there any cracking on the outside of the piano?
Do the piano and bench match?
Take lots of pictures, talk to people you know who are piano players or technicians.
Final thoughts
We are so glad we bought this piano! Having it in the living room has added a lot more music to our lives, and the whole family will sit by it several times a day to play a few songs.
Buy a piano. Add music to your home.